2041 Rufe Snow Drive
Keller, TX 76248
Located between Tan Fusion and Fast Frames

817-393-3539
Closed for business today.
| | |
| --- | --- |
| Monday - Friday | 10:00 am - 6:00 pm |
| Saturday | 10:00 am - 5:00 pm |
| Sunday | Closed |
Sales Associate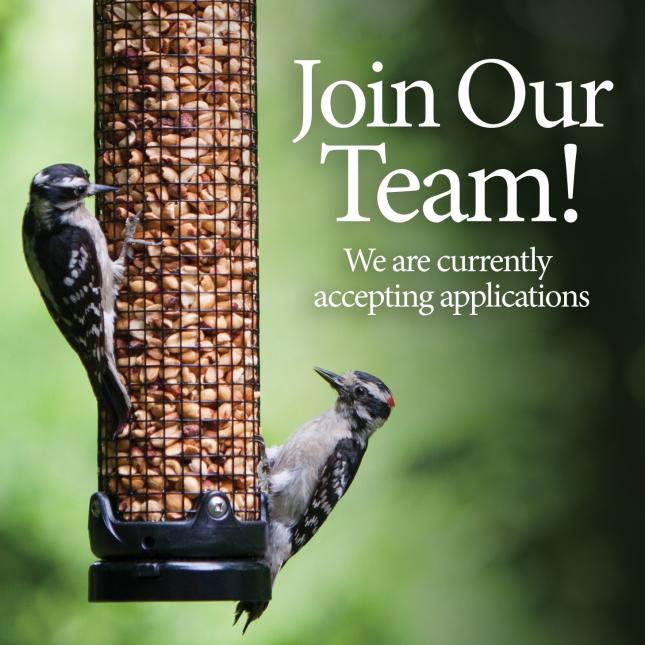 Wild Birds Unlimited of Keller
2041 Rufe Snow Dr., #309
Keller, TX 76248
817/393-FLEW (3539)
We are Looking for a Sales Associate to Join our Flock.
Immediate opening for outgoing, energetic sales associate with retail sales experience and great people skills to work 15-20 hours per week. Ultimate responsibility is to work with our sales team to create an unsurpassed customer experience. Our training program will teach a nature lover the bird, hobby, product, and sales knowledge needed to work with our great customers. Our service standards require the ability to carry 20lb bags of seed and the effort needed to create an exceptional in-store experience.
Position considerations include:
· Prior retail experience (preferred).
· Friendly, outgoing disposition.
· Wild bird feeding experience is not required, but is a plus.
· Interest in nature and wildlife is a requirement.
· We are open 6 days a week and associates are expected to be available on Saturday as well as weekdays, any time between the hours of 10am-6pm. This is non-negotiable.
· Holidays are busy times, and sales associates are needed to work during these periods.
· Ability to lift and carry up to 20 lb. bags of birdseed.
· Ability to climb a step ladder.
· Ability to work in a fast-paced setting and spend extended periods of time on ones feet.
· Comfortable with computers and able to use a computer-based POS system (training provided).
We offer:
· The bird, hobby, product, and sales training needed to do the job well
· A positive, pleasant working environment
· A competitive wage
· Employee discount
· Flexible hours
To apply: Request an application by sending an email to [email protected] Submit a completed application back by email or drop by the store. All applicants MUST fill out our application, as there are specific questions for this job. We will contact prospective candidates to set up an interview.
· Compensation: $9.50-$10.00/hour to start.
· This is a part-time job. Full-time may be considered.
· Principals only. Recruiters, please don't contact this job poster.
---