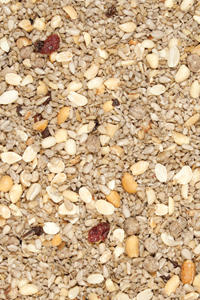 WBU No-Mess Plus Blend: Calcium for Nesting Birds, No Mess for You
WBU No-Mess Plus Blend, compared to other blends, provides a more balanced nutritional offering at feeding stations to meet the needs of nesting birds and increase the frequency of visits to feeders. Not only does it provide much needed supplemental energy for the high demands of the nesting season, the added calcium is the perfect ingredient to help strengthen egg shells for nesting birds and an essential building block as baby birds grow.
Calcium is the most challenging mineral for birds because when they need it in their diet they need large quantities and they need it right away. This is mainly during nesting time for egg laying as well as chick development. The amount of calcium in their natural diet of seeds and insects is often inadequate and they must seek calcium-rich foods as a supplement. Our No-Mess Plus Blend offers them the much-needed calcium and it does it all with no shells so it is a wonderful no mess option for you.
Watch for increased evening feeder activity by female birds as they consume concentrated calcium sources to form an egg overnight to lay the next day.
Also, offering WBU No-Mess Plus Blend makes it more likely that you will see fledgling birds at their feeders later this spring as they learn to feed themselves.